| | |
| --- | --- |
| Geplaatst op 14 november, 2018 om 5:40 | |
Laatst hoorde ik iemand zeggen dat bij hen vroeger thuis altijd werd gezegd: "Je wordt vanzelf een jongetje".
Anders gezegd: "Je krijgt vanzelf eelt op je ziel".
Dat betekent dat het meisje als kleinzielig zou kunnen worden bestempeld.
Meisjes zouden zacht en lief moeten zijn en.... volgens de Bijbel, zéér krachtig!
Maar omdat meisjes vanuit hun eigen ziel graag sterk zijn, worden ze jaloers en gemeen en gaan ze elkaar subtiel misbruiken. Meisjes met meer jongens-karaktereigenschappen gaan zichzelf daar in versterken en kweken zo een heleboel eelt op hun ziel.
Kijk eens naar het Bijbelse voorbeeld van een zachte maar zéér sterke vrouw: Maria, de moeder van Jezus. Zij moet naast een goede liefdevolle moeder ook een zeer krachtige vrouw geweest zijn die niets liever wilde dan haar zoon bevestigd zien worden als de Zoon van God.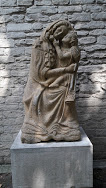 Haar hart scheurde toen ze moest aanzien hoeveel Hij heeft moeten lijden. Dat had haar hard en innerlijk kwaad en teleurgesteld kunnen maken, maar in plaats daarvan droeg zij op een waardige manier haar lijden.
Omdat ik in mijn jeugd veel last heb gehad van intimidatie en mij daarom makkelijk liet intimideren, werd mijn zachtheid vaak een struikelblok. Mensen die dat niet in de gaten hadden hebben daar onbedoeld (op zijn zachts gezegd) vaak misbruik van gemaakt. En vanuit de zwakheid van mijn eigen ziel liet ik me keer op keer intimideren en wegduwen. Zo doen kinderen ook. Ze laten zich wegduwen en lopen gekwetst huilend naar de juf of hun moeder. Ik liep dan vanbinnen met een enorme stress rond, omdat ik wel een enorme innerlijke kracht voelde die ik niet kon laten zien, omdat die geblokkeerd was geraakt, en niet naar buiten kon komen....Dat maakte me keer op keer overspannen en bracht me weer dieper in het hart van onze liefdevolle genezende Vader! Keer op keer heb ik gefrustreerde delen in mijzelf terug mogen leggen in het Hart van God.
Nu herken ik mijn zwakke plek. Ik heb ook de teleurstelling en mijn onmacht bij het kruis gebracht, Natuurlijk was ik in stilte vaak jaloers op mensen die zo krachtig optraden. Dat maakte me innerlijk verdeeld en vanbinnen leefde ik in de spagaat.
Ik had namelijk een sterk deel van mijzelf verstopt en geblokkeerd. Er was een onzichtbare vijand mijn leven binnengeslopen die mij iedere keer leugens in mijn hoofd liet horen.
Toen ik me laatst weer zo zwak en geïntimideerd voelde door die onzichtbare vijand, kreeg ik van de Vader opeens deze tekst:
"U geeft mij de kracht van een wilde stier, met pure olie ben ik overgoten". Psalm 92:11
Wow, wat gaf me dat opeens een enorme kracht. Ik werd als het ware omhoog getrokken en ik had plotseling zoveel om uit te delen. In plaats van lichamelijke uitputting en innerlijke zwakte te voelen, en te buigen onder die intimidatie kreeg ik plotseling nieuwe kracht van de Heilige Geest. En die kracht vult mij iedere dag weer. Het is zo bijzonder om daar iedere keer weer open voor staan. Soms vergeet ik het en val dan weer terug in mijn oude gewoonte om me te laten intimideren en weg te laten zakken in mijn zwakheid. Maar steeds sneller ontdek ik nu mijn zwakke plek en ga ik staan in de kracht van de Heilige Geest.
Ik heb de bodem geraakt.
Dat moest gebeuren.
Ja keer op keer heb ik de bodem van de diepe put gezien om me keer op keer weer op te laten trekken door de liefdevolle HANDEN van Jezus die mij uit die put trok van onmogelijkheden: "Niet meer kunnen. Mezelf helemaal "op" en "gesloopt" voelen".
En tegen jou die ook zo vaak gebukt gaat onder lichamelijke zwakte kan ik zeggen: Er is heling mogelijk voor je geest en ziel en lichaam.
Als je vanbinnen ook die innerlijke spagaat voelt, dan leef je met één been in de zwakheid van je ziel en met je andere been in je krachtige deel van je ziel die wil luisteren naar de uitspraken van de Heilige Geest. De Heilige Geest onderwijst je geest, en met je ziel kun je kiezen naar wie je wilt luisteren. Wil je leven vanuit de kracht of onmacht van jezelf of kies je voor de kracht van de Heilige Geest die tegelijkertijd zo zacht is en liefdevol.
Zacht mèt Kracht
Dat hoort bij elkaar.
Kracht zonder zachtmoedigheid is eigen kracht vanuit je ziel.
Kracht vanuit de Heilige Geest is de zachtheid van de Heilige Geest, gemengd met enorme kracht. Dat bewerkt een hele diepe innerlijke genezing.
Ik maak dat nu steeds mee....Het is zo geweldig om te zien. Het is heerlijk om te mogen opereren vanuit de kracht van de Heilige Geest. Ik geef met mijn wil (ziel= verstand, wil, gevoelsleven) keer op keer de opdracht om mijn geest te richten op de Stem van de Heilige Geest en die andere stemmen buiten de deur te laten. Het bloed van de Here Jezus is aan de deurposten van mijn hart gesmeerd zoals bij de Israëlieten die op punt van vertrek stonden om Egypte te verlaten!
En binnen in mij wordt het steeds gezelliger! Er gaan steeds meer "kaarsjes" aan in mijn hart en ik word vuriger en vuriger voor God en ik brand van verlangen om die innerlijke heling die ikzelf heb ontvangen door te geven aan anderen!!!
Lees ook in dit verband nog eens mijn blogs over het "Moederhart van God" in de categorie: Vertrouwen als een kind, en "Opnieuw geboren worden" in de categorie: Echte vrijheid op de website van www.beilerville.net
"Ik ben niet wat ik doe,
Ik ben niet wat ik heb,
Ik ben niet wat mensen over mij zeggen,
Ik ben Gods geliefde kind.
Dat is wie ik ben.
Niemand kan dit van mij wegnemen,
Ik hoef me geen zorgen te maken,
Ik hoef me niet te haasten,
Ik kan mijn Vriend Jezus vertrouwen,
En Zijn liefde delen in de wereld.
Ik mag nu rusten in Gods oneindige onvoorwaardelijke liefde en ik mag helemaal gaan ontdekken wat Gods zegeningen zijn voor mij.
Als ik mijn positie van "geliefd kind van God" ga omarmen, dan ga ik ten volle beleven wat mijn ware identiteit is, die mij toestemming geeft om moedig te zijn, en risico's te nemen en Gods roeping te volgen die op mijn leven rust."n
(overgenomen van: Love is a great gift Bobby and Hanna Schuller)
Categorieën: Real freedom/Echte vrijheid
/