| | |
| --- | --- |
| Geplaatst op 7 juni, 2018 om 7:45 | |
Vannacht kreeg ik een opmerkelijke droom.
Ik zag dat er een kindje geboren was maar zich nog niet veilig voelde. De navelstreng was nog niet doorgeknipt. Even later zag ik dat de moeder van het kindje weer zwanger leek en ik vroeg me af wat er gebeurd was met de pasgeboren baby.
Ze vertelde me dat het kindje weer terug geplaatst was in de baarmoeder om het eerst nog wat meer veiligheid te geven. Het schilderij van Els Fonteine laat dit proces van terugplaatsing zien!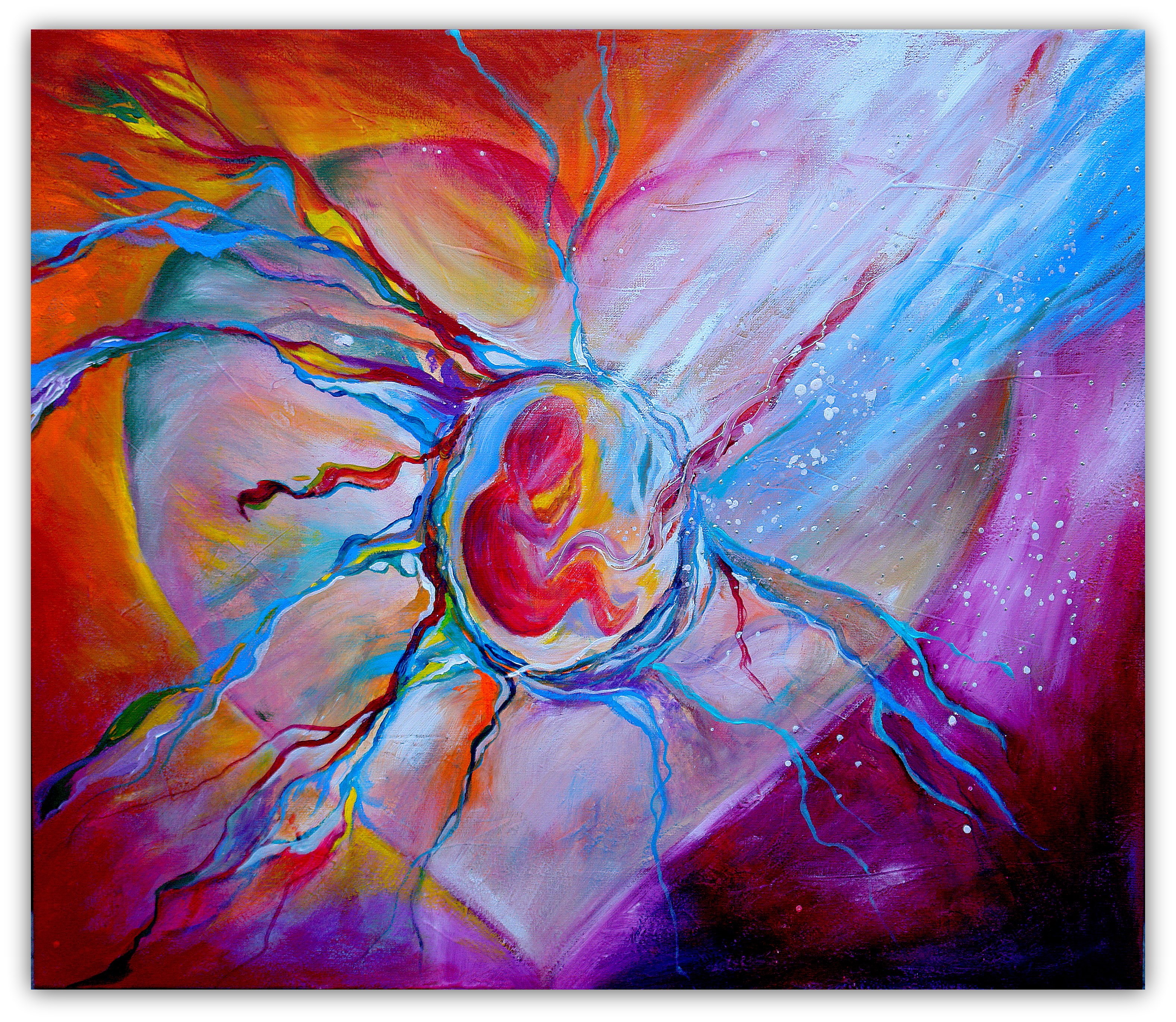 Ik was verbaasd en de droom stopte.
Nu ben ik door het e-coachingtraject van 20 stappen naar innerlijke heling erg bezig met de heling en het opnieuw ontwikkelen van je gewonde delen in de Baarmoeder Gods.
Je kunt zelf inloggen en al beginnen met het downloaden van de gratis inleiding! 
Stap 5 gaat over Gods Moederhart. en terug gaan in de Baarmoeder Gods.
Sommigen denken dat we in een graf leven. Dat het allemaal voorbij is. Dat de eindtijd ons brengt bij het einde van de wereld. Een nieuwe wereldorde komt eraan. De anti christ zal regeren. Als of dat iets nieuws is...Die regeert al veel langer...Alleen nu pas wordt het steeds zichtbaarder. 
Maar bij de Schepper van hemel en aarde is het nooit voorbij. Ja deze hemel en aarde zullen vergaan, maar na deze tijd van ellende komt er een nieuwe tijd. Een wedergeboorte! 
We are not in the tomb
we are in the WOMB!
We leven niet in het graf...nee, we leven in de BAARMOEDER. Als burger van het hemelse Koninkrijk weet je dat er een nieuwe wedergeboorte aankomt. En die nieuwe geboorte begint bij JOU. Niet later...nee NU.
In psalm 131 wordt zo mooi beschreven dat een mens zich veilig mag voelen bij God, zoals een kind zich veilig voelt bij de moeder op schoot.
In mijn droom was het kind al geboren maar moest nog even terug...
Dat is natuurlijk in werkelijkheid onmogelijk. Maar in geestelijk opzicht is het niet onmogelijk. Ik merk bij mijzelf dat mijn wedergeboorte in verschillende fasen is gebeurd. Steeds meer ga ik mijzelf toevertrouwen aan Gods Liefde en leiding. Ik ben heel vaak bang geweest om het roer uit handen te geven en over te dragen aan Jezus die mijn leven richting geeft. Ik kan immers de wind niet draaien...alleen misschien de stand van de zeilen veranderen.
Iedere keer moest ik weer een angstig deel van mijzelf loslaten en terugbrengen in de BAARMOEDER GODS die zo barmhartig en genadig is om mijn wil, verstand en emotie's om te vormen zodat ik helemaal innerlijk geheeld in Gods kracht zou komen te staan!
Zijn er bij jou misschien nog ongeboren delen? Of misschien moet er nog iets teruggeplaatst worden om te laten hervormen?
Is jouw wedergeboorte ook nog niet compleet?
Dan nodig ik je uit om ook mijn e-coachingtraject "Op weg naar innerlijke heling" te gaan volgen!
Je kunt meer informatie vinden op mijn coaching website:https://www.vrijevlinder.net/
Gods baarmoeder. (Deze blog heb ik hier opnieuw geplaatst als achtergrond informatie bij bovenstaande blog!)
Ken je dat? Angst voor straf? Bang voor iemands oordeel?
Ik wel!
Jarenlang heb ik rondgelopen met angst voor kritiek. Maar zelf was ik ook best heel kritisch.
Vreemd dat je zelf doet waar je bang voor bent!
Hoe komt dat toch?
Je zet je stekels op als iemand je de waarheid vertelt en je kruipt in je harnas als iemand te dichtbij komt. Zelfs als het iemand is die alleen maar liefde komt geven….
Ik heb in mijn tijd van innerlijke heling een kostbare ontdekking gedaan. Vroeger dacht ik dat God een oordelende God was die altijd vertelde wat ik fout had gedaan.
God is een straffende God. Ja dat lees ik vaak in de Bijbel. Maar God is ook een God die eindeloos geduldig en barmhartig is.
Heb je ooit van deze Hebreeuwse woorden gehoord?
Rechem = baarmoeder/ Veilig/barmhartigheid/baren /scheppen,
Racham = innerlijke ontferming, barmhartig en erbarmen
Iedere keer als ik bang was voor straf dan vluchtte ik naar de Bijbel en vroeg ik aan God of Hij me iets wilde laten vertellen als ik me schuldig voelde. En iedere keer dat ik God zocht in Zijn Woord, kreeg ik zoveel mooie lieve woorden van troost en geduld en liefde en vergeving te lezen!!!
Vooral psalm 103 was een familie psalm die ik al vele keren bij mijn opa had horen voorlezen na de maaltijd. Maar vreemd genoeg was ik bang voor diezelfde opa. Ik was bang voor zijn oordeel. Misschien was hij zelf wel bang voor zijn eigen oordeel en las hij daarom keer op keer psalm 103 na de maaltijd voor!
Door het verhaal van de eigenwijze domme Jona heb ik een diepe les geleerd. Toen Jona vluchtte en zichzelf overboord liet gooien uit het schip dat wegvoer van zijn bestemming, was er uitredding.
"Ja", zal je zeggen, "God redt altijd als je Hem aanroept". Dat is zo. Maar God doet dat niet luidt mopperend. De Moederlijke kant van God is zo vol van barmhartigheid en liefde en zorgzaamheid dat Jona opnieuw een "baarmoeder-tijd" wordt aangeboden. Zo lief is God! Jona zag in die "baarmoedertijd" dat hij geliefd was door God en dat hij geroepen was om naar de stad Ninevé te gaan. Een stad die hij uit zichzelf niet zou hebben uitgekozen! Hij werd in de ingewanden van de vis zo bemoedigd door God en zo kwam hij tot inkeer en bad hij om vergeving en wijdde hij zijn leven opnieuw toe aan zijn roeping. Hij wilde doen waar hij voor gemaakt was! Vroeger zag ik het verhaal van Jona en de grote vis als een straf. Nu zie ik datzelfde Bijbelverhaal als een teken van liefde en trouw en zorg.
De combinatie van vader & moeder maakt een gezin compleet.
Een Moeder is zorgzaam en ontfermt zich over haar kinderen. Ze voedt op en maakt haar kinderen zelfstandig. Vader wil zijn kind sterk maken en onafhankelijk.
Zo is Gods Liefde ook.
Ik denk dat de moederlijke kant van God nog niet diep is gezakt in het christelijke leven. Mensen slaan elkaar snel om de oren en oordelen makkelijk en daarmee veroordelen ze zichzelf ook.
Mag ik je uitnodigen om Gods Moederhart te leren kennen?!
Mijn lieve kind,
Ik heb jou gedragen en Ik wilde jou!
Ik droeg jou met zoveel verlangen….!!!
Je bent mijn eigen kind en ik koester jou en verlang naar jou.
Mijn lieve kind,
Ik wil jou nooit geen pijn doen!
Ik wil jou beschermen en je helpen en je troosten.
Schuil maar bij MIJ!
Bij Mijn Moederhart!
Liefs,
GOD
Lees in je Bijbel:
Exodus 34:6
De Heer, een God die liefdevol is en genadig, geduldig, groot van barmhartigheid en trouw.
Rechem = baarmoeder/ Veilig/barmhartigheid/baren /scheppen
Racham = innerlijke ontferming, barmhartig en erbarmen
Het Hebreeuwse woord voor barmhartigheid (rachum) heeft te maken met baarmoeder (rèchèm): Gods Vaderhart is vol moederliefde.
Voor meer informatie over mijn coachingtraject Op weg naar innerlijke heling kun je kijken op mijn website van www.vrijevlinder.net
Directe Link:
https://www.vrijevlinder.net/e-coaching-voor-volwassenen

Categorieën: Comfort/Troost
/